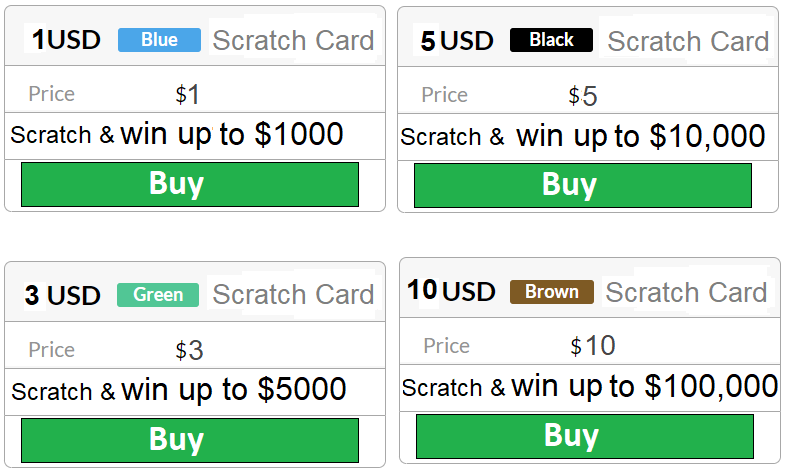 BetCoBit scratch card lottery is a unique online scratch card lottery. Before start playing scratch cards learn how BetCoBit scratch card lottery works?
First of all, sign up and after login, you can see your BetCoBit account dashboard. You can add money to your account with cryptocurrency. If you do not use Bitcoin, you can contact the support team . You can add money to your account with many suitable payment methods.
Now is the time to go to the scratch cards page. As you can see in the screenshot there are four different colors of cards. With four different prices and prizes. Choose a card click to buy and, a popup appears to confirm the purchase.
After click okay, a scratch card will be purchased successfully and you can see the scratch card.
Note: Don't refresh the page, otherwise the purchased card will be disappeared.
Now, scratch your card, and the card will reveal what is inside. If you are using a desktop, click and move your mouse or if you are using mobile, touch and move your finger.
If you see the message "Better luck next time. No prize on this card!" means there is no prize, and you can try your luck with another card.
If you see a code with the message "you have won" that means you have won money.
Copy the code and click the claim button given below on the code bar. You will be redirected to the claim page. Paste your scratch card won number into the field and click claim.
Note: Don't refresh the page before copy, otherwise the card will disappear.
After successfully claim your prize, a success message appears and your BetCoBit account balance increased.
BetCoBit averagely chooses one out of the fifth card for a winner.